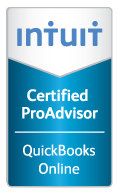 A couple of months ago we highlighted the recent changes in Xero, and now it's the turn of QuickBooks Online.  As the online software providers are constantly developing and enhancing their products, it's sometimes tricky to keep up.  So here's a run-down of what the QuickBooks Online chaps and chappesses have been up to lately!
Bank Rules
You can now set up bank rules in QBO to handle automatically those transactions which repeat regularly.  This is great because as well as saving time, it also means that you don't have to remember which account to post the transaction to, so greater consistency.  We also find that for tricky transactions, such as monthly lease or asset finance payments, we can set up the rule to account correctly, meaning you don't have to.
Split Deposits over Multi-Invoices / Customers
It's now much easier to deal with deposits where a customer is settling multiple invoices, or, in the case of direct debit collections, where multiple customer receipts are dealt with as a single transaction by your bank.  Great news!
Custom Invoice / Forms Styles
You can now create multiple forms templates, with different  logos and styles on your invoices, estimates and statements etc.  Soon, there will be the facility to  completely customize your invoices by creating your own style in a doc.x file and then upload to use in QBO.  This is something our customers have been crying out for!
No VAT Tax Code
This replaces the Outside the Scope of VAT code and is largely a cosmetic change, but there is now a new report  under the Manage VAT reports section which details all items with the No VAT code.  A handy check that you're not excluding something from your VAT return in error.
Enhanced Lists
It's now easier to find all your lists such as chart of accounts, product lists, recurring transactions, payments terms etc.   Go to the gear (cog) and click on All Lists.
New Management Reports
Quite a nice feature—some pre-set management reports which, assuming your chart of accounts is organized correctly, means you can have a management accounts pack at the click of a button.
As certified Proadvisors for both QuickBooks Online and QuickBooks Desktop, if you're struggling to get the most out of either product, then give us a call.  Getting accounting software working for you is our passion!