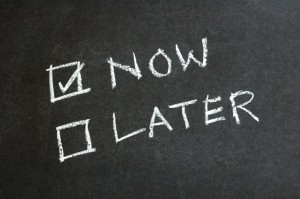 Despite the recession being technically over, it's still a tough time for many businesses out there.  So what would you do if one of your major customers went under, owing you a substantial amount?  And what steps can you take, right now, to ensure that you do not become a casualty of another business' collapse?
Make sure you know your customer well.  Invest time in keeping in contact with them regularly, encouraging them to be open and honest with you, and above all gently dig deeper if you start to get any indication that all might not be well.
Mitigate your own risk.  Try to run a business model which does not rely too heavily on a small number of key clients.  This may be difficult for many service industry businesses, but I always find a good motivator is imagining life where your two biggest customers drop out tomorrow.  Is this a devastating prospect or could you survive?
Perform credit checks.  If embarking on a major contract with a new customer, I would always advise this.  of course, it;s often difficult to know whether a customer in in financial difficulties just by doing the standard D&B checks.  But there are often other ways of gleaning up-to-date intelligence.  Try to engage with other suppliers and / or employees to check they are getting paid promptly, or request an initial payment up front to gauge their reaction.  I may be calling for a sixth sense, but in business we do rely heavily on instinct after all.
Establish clear payment terms and enforce them.  You are not legally obliged to extend credit to your customers so Immediate Payment as a term is perfectly valid.  But then you must back this up by firmly and consistently chasing up late payments.  If your customer feels you are not taking your own payments terms seriously, then they certainly won't!  And do make sure you invoice promptly.  A customer is always happier about paying an invoice if they are still appreciative about what you have done for them.
Tread carefully.  If a customer is struggling to pay you on time, then often a firm but sympathetic approach is best.  Be sure to actively manage things, but agree a payment plan with your customer and give them a chance to adhere to it.  You are then more likely to get paid than other suppliers who either do not chase, or who are too aggressive.  Remember, if your customer goes into liquidation, there is little chance of you recovering your money at all.
YOU ARE NOT A BANK so beware of customers who treat you like one, and try to firmly educate them otherwise!